Atalya Emily Shourki
Clapsodra is proud to announce the band's new female singer which you can hear and see in all the following concerts and recordings:
Atalia Emily Shurki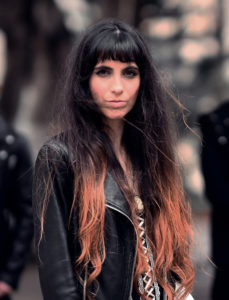 A versatile singer who combines classical singing styles, jazz, blues, RNB, punk, grunge, rock and metal.
From an early age, she specializes in poetry and in a strict classical artistic education.
A professional singer, a composer, a songwriter, a musician and a voice teacher.
She plays: piano, guitar and other instruments.

Background
The official metal singer of Clapsodra: December 2018 until the armageddon.
Singer, composer and director of Tula Band.
She is a graduate of the Li-Ron Choir under the direction of Ronit Shapira with wins in competitions in Israel and abroad: 2000-2018
Vocalist in the A capella Hellscore metal choir, conducted by Noa Gruman: 2016-present
Soloist of The Junkiez Supergrup.
Studied with leading Israeli teachers including Yafit Reiss, Guy Mannheim, Noa Gruman, and Julia Feldman.
Studied at the Rimon School of Music for two years.
Studied song composing with Yehuda Eder.